Inside the chaotic, desperate, last-minute Trump 2020 reboot.
By Olivia Nuzzi President Trump speaking in Cleveland on August 6. Photo: JIM WATSON/AFP/GETTY IMAGES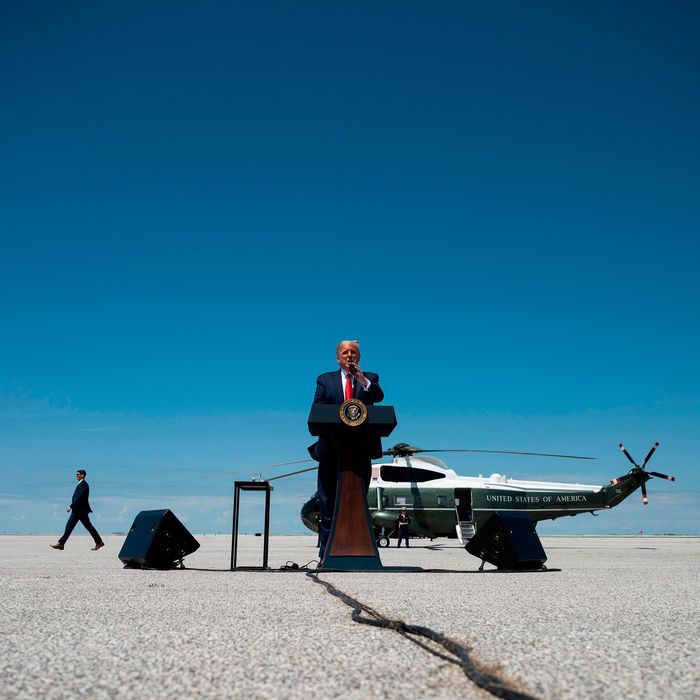 This article was featured in One Great Story, New York's reading recommendation newsletter. Sign up here to get it nightly.
For the two and a half years that he was in charge, a Brad Parscale sighting was always news at Trump campaign headquarters in Rosslyn, Virginia. Parscale is six-foot-eight with a dagger of a beard and thorns for ears that give his head the shape of a spiked club, like a medieval morning star. So you can't really miss him. But "there were times Brad might not be there for two to three weeks," one campaign official told me. "If he wasn't meeting with the president or going on the road, you weren't seeing him. He was only around for the high-profile, celebrity things."
"He was never there," a senior White House official said. "He'd make phone calls from his house in Florida and brag that he was by the pool. And because he was never there, at the campaign office, people would leave at four o'clock in the afternoon." (Jason Miller, a senior adviser to the Trump campaign, told me, "I've never FaceTimed Brad, so I cannot speak to what he is or is not doing while I'm on the phone with him.")
It was a sign of impending doom, to some, when earlier this summer Parscale began coming in more often just as the target on his back swelled to carnival proportions. The polls? Trump trailed his almost-invisible challenger by double digits nationally and by a considerable margin in most battleground states. The messaging? Well, you try to "spin" six months in which 160,000 Americans died and at least 5 million more were infected by a virus you first said wouldn't be much to worry about. Six months in which your best case for reelection — the greatest economy in the world — was destroyed too. The offense? Trump couldn't even settle on a nickname for Joe Biden. Was he "Sleepy Joe," or "Creepy Joe," or "Beijing Biden"? That tiny Tulsa rally Parscale had organized — which followed weeks of massive hype — preceded a spike in coronavirus infections in the city that, local officials said, was probably born of the event, where the guest list included Herman Cain, who later died. Meanwhile, nationwide, there was civil unrest that Trump, whose political career had begun with a media tour to promote a racist conspiracy theory called birtherism, was unfit to handle. Yet there was an attitude, naïve and cocky, that led Parscale to compare the campaign to the Death Star, ready to fire but with no apparent idea where to aim. What was next? Locusts? How could the circumstances be any worse? The campaign was in a hole so deep it was actually historic — a deficit not just bigger, at this point in the race, than any an incumbent had ever overcome, but bigger than any an incumbent had ever even faced.
Even Trump was finding it more difficult to believe the fiction that everything was going great, and easier and easier to see the nihilistic wisdom of open warfare with the Postal Service in a way that might both cut Democrats' likely vote-by-mail margins and delegitimize the election more generally. His closest advisers were now telling him that the bad numbers and bad reviews weren't the fruits of Fake News or a deep-state hoax but a genuine reflection of what could happen in November. Though it took some time for him to accept it. The president recently asked a second senior White House official to review Biden's performance after watching him speak. "I said, 'I think if we lose to this guy, we're really pathetic,' " the official told me. "The president said to me, 'I'm not losing to Joe Biden.' I said, 'You're losing to Joe Biden.' " The campaign was spending all this money on silly things. Brad's businesses kept making money.
It was July before he "saw for the first time" that he could be defeated, according to the official. And he didn't blame himself. He blamed a cruel world, a crueler media, and the Death Star's failure to defend him from both. "They thought they were running one campaign: We're on cruise control for the president who gave us the greatest economy of all time, and all the messaging would flow from there. Which socialist are we running against? Bop, bop, bop. And everything changed, and they didn't change," the senior White House official said. "The president started to hate the ads. He hated 'Beijing Biden' — he didn't come up with that name."
In the West Wing, officials filed away gossip and unflattering data points about the campaign manager as if drafting a dossier. When it was reported that Parscale's web of companies took in $38 million between Inauguration Day and the spring of the pandemic, according to the Federal Election Commission, the story circulated widely. Though Parscale has declined to make clear what portion of his bills to the campaign amount to his personal salary, the New York Times reported in March that Trump had imposed a salary cap on Parscale of somewhere between $700,000 and $800,000 — enough for him to become in midlife a collector of luxury cars and seaside real estate, or at least a media caricature of one. But it wasn't only Parscale's spending on Parscale that worried — or "worried" — some of his colleagues; it was his spending on everything else, too, like the $15,000-a-month payments to Kimberly Guilfoyle, Donald Trump Jr.'s girlfriend, and to Lara Trump, Eric Trump's wife, both of whom crisscross the country as campaign surrogates.
"The campaign was spending all this money on silly things. Brad's businesses kept making money," the first senior White House official told me. "Everyone was like, What does he even do? He's just milking the family, basically. And nobody could understand why Jared and the family were putting up with it. That was the talk all the time. Why? Why Brad? He's not some genius. And I guess people just came to the conclusion that, well, who else would be campaign manager? We're kind of stuck with this guy."
Parscale had abided needling before. That came with the job — the 2016 campaign had run on chaos, and this time around, nobody seemed inclined to do anything but up the ante. But as the campaign began to really falter, with Trump not just a little behind but a lot, Parscale became a human pincushion. The Lincoln Project, the group run by self-described "Never Trump" conservatives — members of what was once the Republican Establishment, like John Weaver, Steve Schmidt, and George Conway, husband of the counselor to the president, Kellyanne — bought up airtime in Washington, D.C., with the goal of forcing the president to view a 48-second attack ad about the personal wealth Parscale had accumulated in the four years since he started working for him during the last election. Trump did see the ad, and, later, he asked Parscale why it contained footage of "ass slapping."
"The president wonders who's truly loyal to him and who's not and who's making a buck on him," George Conway told me, explaining that, from his perspective, "triggering Trump's paranoia" is one way to defeat him. "It doesn't matter who is the captain of the SS Trump, because Trump is the one who is going to run it into the iceberg in the end. If there's more chaos, all the better. We try to trigger the chaos in Trump's DNA."
Even as representatives for the campaign insisted the press was wrong to report that Parscale was about to be fired, "anybody who knew anything knew it was just a matter of time," the campaign official said. The second senior White House official added, "The Brad special-ops team had three weeks between Tulsa and his firing. They were saying, 'Brad's job is safe! Brad's part of the family!' Nobody was saying, 'Is the president's job safe?' But the president started to ask that question."
The president started asking other kinds of questions, too. "Somebody made the point that Dan Scavino will make for the entire year the cost of Brad's one car, and it really pissed him off," the second senior White House official said. Scavino, one of Trump's longest-serving aides, is the White House social-media director, earning a government salary of $183,000 (the maximum for West Wing aides). Parscale, as the Lincoln Project so effectively noted in its ad, owns a Range Rover (starting at $90,000) and a Ferrari (starting at $200,000). "It was a really stark illustration to the president," the second senior White House official said.
On the evening of July 15, Trump announced his decision: Parscale would be demoted and replaced as campaign manager by Bill Stepien, his former White House political director.
In the weeks that followed, Stepien was described to me by multiple members of the staff as a professional guy who cared only about winning the election — as though the arrival of a campaign manager who cared about winning was a notable development for a campaign on track to lose. "There are more corporate expectations of clocking in and clocking out," a person close to the campaign and the White House told me. "Overnight, the expectations changed. One week people are being sent home because of covid, the next week it's like, 'Be in at 7 a.m.!' A lot of people felt it was too harsh in the beginning."
The morning after the deal was done, Parscale arrived at Trump headquarters. The staff crowded around as he recalled the earliest days of the campaign, when he said it was just him and five others working out of the basement of the Republican National Committee. Parscale became emotional — "choked up," as one campaign official put it — scanning the roomful of faces he'd hired to build an operation he said he was proud of. He said he knew that Stepien would lead the team over the finish line but that — despite what the press was reporting — he wasn't going anywhere.
"And then he literally just walked right out the door," the campaign official said with a laugh.
Some people heard he went straight to the airport — which he did, going home to Florida, as much an effort at sanity preservation as it was a courtesy to Stepien, who he feared wouldn't be able to assert himself while he was hanging around, hanging over him. A few hours later, he tweeted a Bible verse: "Bless those who persecute you; bless and do not curse them."
"Haven't seen him since!" the campaign official said. "We didn't hardly see him before, either. But now we don't see him at all."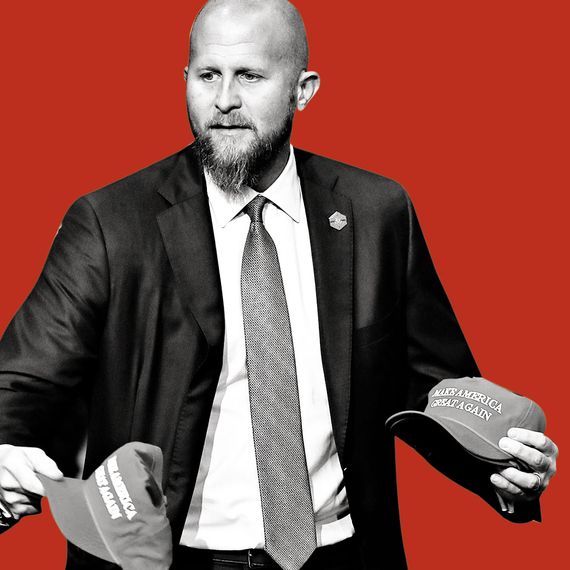 Former campaign manager Brad Parscale. Photo-Illustration: PAUL SANCYA/GETTY IMAGES/Copyright 2019 The Associated Press. All rights reserved
There's no other way to look at the demotion of Brad other than as a pushback of Jared as well," the senior White House official said. (The portrait of the campaign in this story is based on interviews with more than 30 sources from the 2020 campaign and the 2016 campaign, Republicans in politics and government at all levels, and people who serve in the highest ranks of the Trump administration.)
Anyone with power or obvious ambitions to obtain it necessarily has rivals in Trumpworld. And Parscale's close relationship with the president's son-in-law meant he assumed the role of mark for Jared Kushner's many haters. From Parscale's perspective, there was an entire community of people on the outside who seemed to spend every day, every hour, every second vibrating with contempt for people — like him — who had real influence and real relationships with the people who actually mattered. Parscale spoke often to the president and considered him a friend, which, he understood, bred resentment. He tried not to engage with what he saw as dirty fighting — swampy stuff from the very crowd who had said they would drain it — in the belief that karma would have its say in the end.
Parscale's value, as some saw it, lay not in what he could do for the campaign but in what he could do for Kushner. "Brad was willing to do whatever Jared said and keep quiet about it. Brad was willing to get yelled at by the president and not say to the president, 'Well, actually, this was Jared's decision,' " the first senior White House official said. "And Jared got to rule from afar because Brad would do whatever he said. In return, Brad made a fuck-ton of money and got to live by the pool in Florida. It was almost like this weird mutual partnership, whether they knew it or not."
This way of thinking is so pervasive that sometimes, when I'm having a bad day, I wonder if it's Jared Kushner's fault. In the case of the reelection campaign, what appeared to be a civil war at the highest levels of Trumpworld, with anti-Kushner factions inside and immediately surrounding the West Wing positioned against representatives of his interests at campaign headquarters, and a last-minute last chance for a reboot before November, was more like WrestleMania. The drama was both all-consuming and self-contained. Parscale and Stepien were both seen as Kushner allies, yet the regime change was nevertheless regarded as revealing some aspect of Kushner's shifting status — even as he remained functionally in charge the whole time. Kushner's influence is so total that, even when his proxy is removed, he's just replaced by yet another proxy. After all, if you're not a "Kushner guy," the dismissive term for officials perceived to carry out his will, what kind of guy could you even be?
This Kushner Kremlinology helps explain — though really, probably, only helps, since you'd imagine interpersonal details are ultimately trivial office gossip compared with the actual state of the reelection and what those working on it believe needs to be done to win it — why so many people on the campaign were so focused, in the reporting of this story, on pushing one narrative or another about exactly who was in the room when Parscale was fired. Depending on whom you ask, the meeting at which Trump offered Stepien the job was either kept secret from Kushner, who learned about it only after the deal was done, or orchestrated by Kushner, who urged the president to make the deal in the first place. (Two sources independently volunteered that Kushner was not in the room with Trump and Stepien, while two other sources, who coordinated, said he was. Nobody who anonymously provided information about the meeting to New York would go on the record to dispute their anonymous colleagues or provide corroborating evidence to support their own anonymous claims about this minor detail. All of these people are close to the most powerful man in the world. Are you surprised?)
"I do think it's shitty that people are out trying to make Brad look bad to make themselves look better," the source close to the White House and the campaign said. "We're supposed to be all on the same team." This person added, "It's always this unspoken thing. Everybody knows who's saying and doing things. So that's really the shady thing. Like, Don't do your dirty work in the media. Don't be a coward. But eventually, these people show themselves, and karma's a bitch." Parscale, and those who liked him, believed it was Kellyanne Conway who wanted him gone the most. During the 2016 campaign, Conway made no secret that she was annoyed by Parscale's folksy habit of announcing, to outsiders, that he didn't know much about politics — and annoyed, too, that he didn't know much about politics. "It's charming that Donald Trump has never been in politics before," she told him once. "It's not charming that the people who work for him have never worked in politics before." Parscale thought Conway wanted to take control of the 2020 campaign and that to do so, she needed to prove to the president that Kushner was fucking everything up, and that to do that, she needed to sabotage him. Trump was aware that Parscale saw Conway this way, but Trump also seemed terrified of Conway and never at risk of doing anything to intervene. For reasons Parscale could only speculate about, Conway's job was always safe. (Conway thought the allegation was ridiculous and that if Brad had focused as much on Michigan and messaging as he did on nonexistent infighting, things might be a little bit different. As she saw it, Parscale's demotion came after he tried to deny what the president saw with his own eyes — crowd size in Tulsa, the profligate spending, and the polls showing Biden ahead.)
It was Kushner who managed to calm his father-in-law down after the Tulsa disaster, according to a senior White House official, though he'd been the one promoting the rally as a campaign reset for weeks. Kushner told Trump that things were "going to be okay" and dismissed the crisis as "not a big deal," according to the official. "Jared was pushing these rallies until Tulsa — and then, suddenly, it's Brad's fault."
But Kushner's intentions and the nature of his role were often willfully misunderstood by staffers who observed a limited percentage of his interactions with the president, according to a senior administration official. "The president always wants to hold rallies. He didn't need encouragement," this person said, adding that it was Kushner who got through to the president by explaining the issue to him in these terms: If no professional sports leagues were holding big events, the campaign had to rethink doing so too.
Looking back, Parscale wished he'd been able to stop the Tulsa rally, widely understood to have been his project — to tell the president it was a fucking terrible idea. But getting through to Trump was not easy. The president's wings had been clipped by the pandemic, and no regular rallies meant no regular contact with crowds, which meant no way for him to know for sure that he had a feel of things. More than numbers, internal or external, he relied on his intuition, a sixth sense of sorts — a short finger not only on the pulse but on the beating heart itself — that made him an entertainer before it made him president. In 2016, one campaign official told me that this was how decisions were made, with orders that started with the words, "I feel like this is where we should go. I'm hearing this out there. Let's do it that way." Miller, a senior adviser to the campaign, said that he is in almost constant contact with Trump as Election Day nears, and that one of the things Trump most reliably asks about is "what the supporters are doing, what the activity is around the country, what the on-the-ground feel is for how the race is going — in particular, juxtaposed by the public perception of how the race is going." Parscale felt pressured to give him what he wanted, so he did.